Window Treatments in Sturtevant in Racine County, WI
Enhance the beauty, elegance, and functionality of your home with window treatments from our local store. At our flooring and remodeling showroom, we offer a wide selection of curtains, drapes, and blinds to give the windows throughout your home a stunning, new look. When you add window treatments to your remodeling project, you are well on your way to establishing a distinct personality throughout your home.
A window covering is a functional work of art. The primary function of treatments for windows is to provide occupants with a means to control natural light levels in a given room. In essence, it allows you to make your favorite rooms as bright or dark as you want – all throughout the day. This allows you to establish a distinct atmosphere in a given room, and it also serves to protect your privacy.
Of course, since window treatments can control the level of natural light, they also serve to give your air conditioner a break. Various coverings can block sunlight, and the incoming heat, from entering your home. This allows rooms to become cooler, which reduces how often your AC must cycle to maintain a comfortable temperature.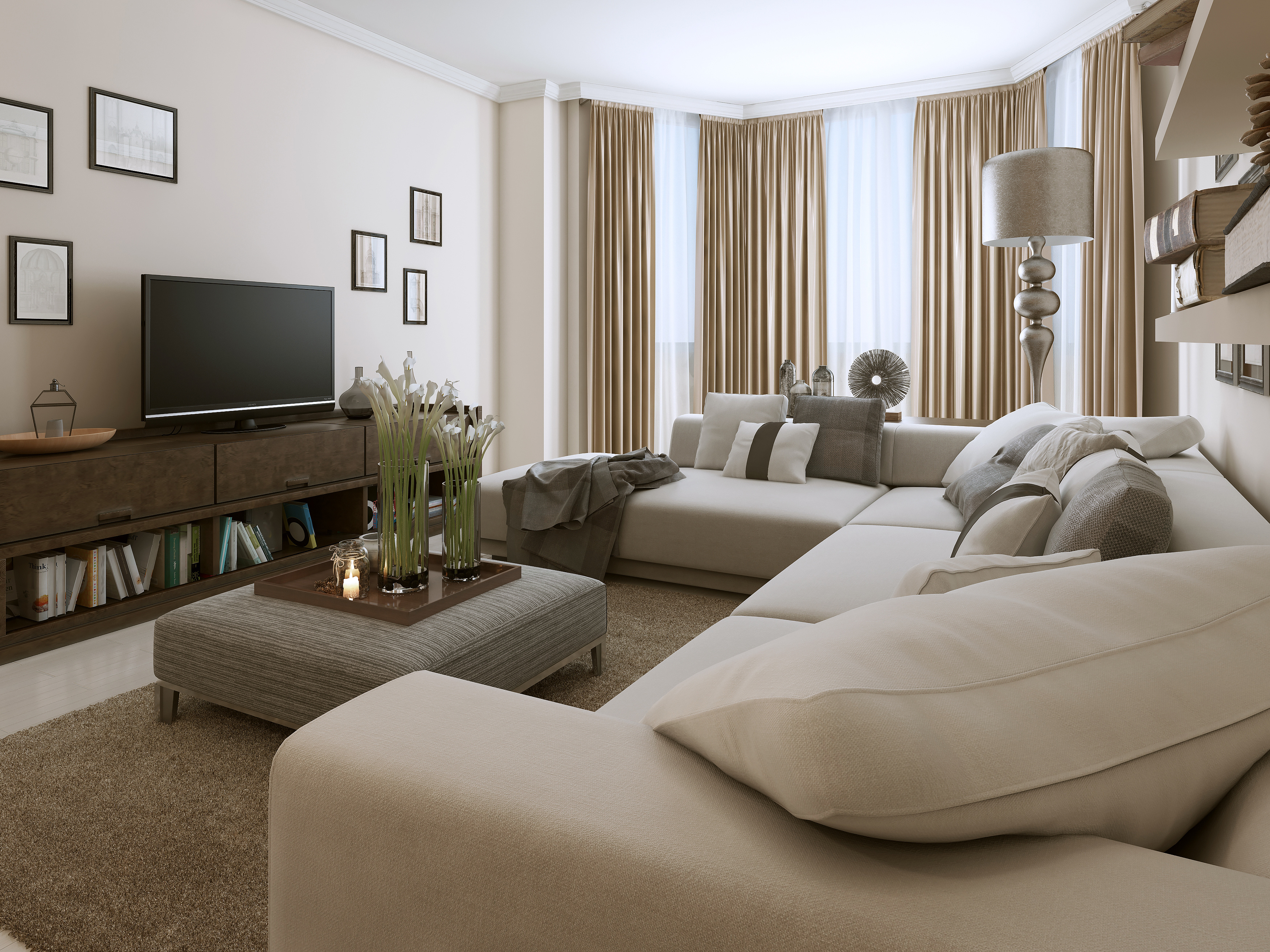 Finally, window treatments are an investment for style. With our stunning collections in many different styles, you are sure to find the right one to match your interior decorations and flooring. Whether you are looking for a traditional aesthetic or something more contemporary, our showroom has many different options to suit your specific tastes and budget.
Useful Kitchen Window Treatments
Kitchen window treatments allow you to prepare gourmet meals in a comfortable manner. Many kitchen window areas take full advantage of the rising or setting sun. While breathtaking in its own right, the glare from the light can make washing dishes or preparing food an inconvenience. Protect your eyes and gain on-demand light control with coverings from our varied selections. Many of our products are made from tough, easy-to-clean materials that resist steam, moisture, and grease. After all, your kitchen is a busy place. You deserve beautiful blinds that can withstand the rigors of daily use.
Private Bathroom Window Treatments
The bathroom is a place for rest and relaxation. It is the one room throughout your home that insists on privacy. While windows serve to add natural, soothing sunlight to occupants, it is understandable to want peace and solitude in the bathroom. For this reason, our showroom offers a multitude of bathroom window treatments. We carry treatments of different shapes and sizes to accommodate the unique setup of your windows.
Stunning Drapes & Charming Curtains
Establish a distinct atmosphere with our vast selection of drapes. This kind of covering is crafted primarily from fabric, and can reach all the way to the floor to give your living room or den a refined ambience. Our showroom offers a diverse selection of drapes, each with different patterns and colors, so you are empowered to coordinate your rooms.
Curtains provide a simple and elegant way to control natural light throughout your home. They can be cut to fit the shape and size of your window. As a result, curtains are easy to operate and can accentuate the surrounding scenery. Whether your choose drapes or curtains, both options frame picture-perfect views of the outside, while also allowing more control over your daytime comfort. As always, our sales representatives are on-site to help plan your next interior remodeling project.
Contact us today to learn how window treatments improve the beauty, functionality, and value of your home. We proudly install flooring for clients throughout Sturtevant, Mt. Pleasant, Racine, Somers, and Union Grove, Wisconsin, as well as the surrounding areas.