Tile Flooring in Racine County, WI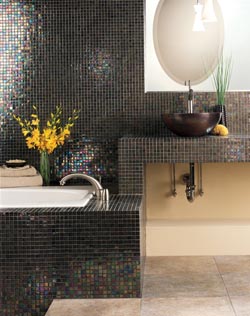 Upgrade your home with stylish and durable tile flooring in Racine County, WI. Choose ceramic tile or porcelain tile for long-lasting and beautiful new floors in your home. From your master bathroom to your kitchen or foyer, upgrade your property with the affordable elegance and simplicity of floor tiles. Cost-effective and attractive, our tile floors are easy to care for and maintain, giving you the freedom to enjoy your new floors without the hassle.
Remodel your home with the ideal design to match your current décor. Shop our vast selection of styles, colors, and materials to find the floors that best suit your needs in looks, performance, and price. Visit our spacious showroom and see firsthand the vast assortment of tile flooring options we offer. Our team of knowledgeable flooring specialists works with you every step of the way—from selection to installation.
Refashion your home for a modern look without breaking your budget. We offer a stunning selection of discounted ceramic tile that transforms every room into an updated living space. This material is known for its easy maintenance, cost-effectiveness, and durability. In addition, if a specific section of the floor gets damaged, it is simple to repair. Once the damaged piece is removed, replacement tiles can be reinstalled and regrouted in the area to be repaired. That is one reason we recommend keeping a few extra pieces of tile on hand, in case you need to make a repair. With such easy-to-repair material, you can be sure to save money by never having to replace your entire floor.
Additionally, ceramic tile flooring can add long-term value to your property. Available in a wide assortment of colors, patterns, shades, and textures, this flooring gives you the chance to create unique designs for both casual and formal decor. These products are built to last in both indoor and outdoor home and business environments.
The Versatility of Porcelain Tile
Create an intricate design in your home with the beauty and style of porcelain tile. Our crew of expert flooring professionals has the knowledge and skill to cut your tile according to your exact specifications, making your home a truly one-of-a-kind, customized space. Porcelain tile is also strong enough for outside environments as it is frost-proof and moisture resistant. You can even mix and match different shades and patterns to make your home stand out and highlight your unique style and décor. Additionally, both porcelain and ceramic tile types can be used to craft beautiful, wood-look tile surfaces.
Professional Tile Flooring Installation
Guarantee the looks and longevity of your investment with the help of our experts. Our knowledgeable and skilled installers offer all-inclusive tile flooring installations that make remodeling your home easy and convenient. We take care of everything with the utmost craftsmanship and efficiency.
Our locally owned store is known for providing personalized service while accommodating your every need. Our mission is to ensure your convenience by installing your tile flooring with minimal disruption to your daily routine. With our help, you receive an affordable, stunning new floor that will last for years to come.

Contact us today for tile flooring that gives your home a fresh look without draining your bank account. Our team is proud to serve clients throughout Sturtevant, Mt. Pleasant, Racine, Somers, and Union Grove, Wisconsin, as well as the surrounding areas.