Luxury Vinyl Tile in Sturtevant, WI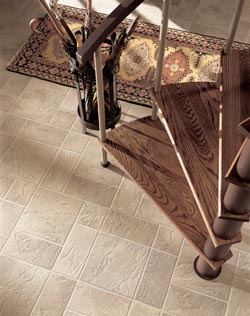 Are you considering replacing your old floors with an attractive and low maintenance solution? Our well-stocked flooring storehas exactly what you need! We offer a handsome collection of luxury vinyl tile in in a variety of sizes, designs, and materials. These brand-name floors offer the attractive appearance of high-end flooring, with the additional benefits of manufactured materials.


The Benefits of Resilient Flooring
Luxury vinyl, also referred to as resilient flooring, provides an impressive resistance to the most common types of damage experienced in the home. From pet accidents, to heavy foot traffic, and even occasional spills, this floor product offers the level of durability every family needs. While it remains resilient to a range of damages, it still resembles the coveted appearance of the most popular floor fashions. The following are the two main types of luxury vinyl we carry:
Luxury Vinyl Tile – This product resembles popular tile products, including ceramic and porcelain. It is great for wet areas like the kitchen and bathroom.
Luxury Vinyl Plank – This product features the same plank-like design of hardwood materials. Most styles are even textured for a real, wood flooring feel.


Why Choose LVT?
With so many flooring options now available to homeowners, choosing the right product for every space can be a challenge. The associates at our local store make it easy to narrow down the vast selection on display, and help you choose floors that satisfy in performance, price, and appearance. Whether you are concerned about new flooring with aesthetic value, or new flooring that holds up well for years to come, LVT may be the ideal solution for your home. Additional benefits of luxury vinyl include:
Resists Stains, Water Damage, Dents, Cracks, & Chips
Lasts 15 Years of Longer When Cared for Properly
Requires Minimal Maintenance & Is Easy to Clean
Is Available in a Range of Styles, Hues, Textures, & Designs


Vinyl Flooring Installation You Can Trust
Our team is committed to assisting client through the entire flooring process, from selection to installation. We maintain several technicians on staff who perform vinyl flooring installation backed by years of hands-on experience.
Another perk of allowing our experts to install your floors is the Ultimate Confidence Guarantee. To take advantage of the guarantee, you must contact us within 30 days of the initial install and express why you are unhappy with your new floors. Then, we will come out to replace your floors with a comparable product for free.



For more information about luxury vinyl tile, contact Floortech Interiors at your earliest convenience. We would be more than happy to discuss the benefits of this popular product. Our store and showroom serves Sturtevant, Mt Pleasant, Racine, Somers, and Union Grove, Paris, Caledonia, Franklin, Kenosha, Burlington, Waterford, Wisconsin.